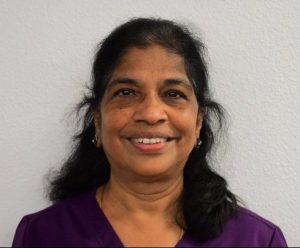 Dr. Chitra Shanmugham has been practicing dentistry for over 20 years.
After obtaining her bachelor's degree in dentistry and practicing in India, she moved to Canada to pursue research in dental equipment.

She has been awarded global patents for her dental devices.
She has been practicing dentistry in the U.S. for over 12 years and took over Brite Dental to continue her practice and be closer to her family.
| Day | Hours |
| --- | --- |
| Monday | 9:00 a.m. - 5:00 p.m. |
| Tuesday | 9:00 a.m. - 6:00 p.m. |
| Wednesday | 9:00 a.m. - 5:00 p.m. |
| Thursday | 9:00 a.m. - 5:00 p.m. |
| Friday | 9:00 a.m. - 5:00 p.m. |
| Saturday | By Appointment Only |
| Sunday | Closed |